Best Prop Firm For Algo Trading
Entering into the world of prop trading can be a challenging but rewarding journey. It's important to clearly understand the expectations and requirements before embarking on this path. While some prop firms may have an evaluation phase, it's not necessary for FundYourFX, the industry's best instant funding prop firm.
Many strategies can be used in trading, including Algo Trading or automated trading. However, there are still many prop firms that prohibit the use of algo trading and automated trading as it is considered unfair.
Traders accustomed to algorithmic trading should rest assured, as FundYourFX is just one of several prop firms that welcome this kind of trading.
If you're an algorithmic trader looking for the best prop firm to help you advance your trading skills, then FundYourFX is the answer. In this FundYourFX review, we'll delve into the reasons why FundYourFX is the leading choice for algo traders, and how they can assist you in achieving your trading objectives. With their cutting-edge technology and infrastructure, coupled with a supportive community and competitive funding program, FundYourFX offers everything you need to succeed as an algo trader. Keep reading to find out more.
FundYourFX is an instant funding prop firm with a social mission. The company was founded by traders for traders and aimed to offer the best-funded trader program.
They are the first prop firm to donate 10% of its profits to charity, supporting four issues: the environment, world hunger, child abuse, and financial literacy. Traders are also given the option to donate their 10% profit share. The company strives for transparency and fairness, rewarding good performance and offering a win-win situation for the company and traders.
FundYourFX's vision is financial inclusion for everyone, providing access to funds to trade and invest in the financial markets. The company values honesty, responsibility, and long-term relationships, taking its fiduciary duties seriously and aiming to provide excellent service and products. FundYourFX aims to help traders develop their potential and maximize their talents.
The firm believes in allowing traders to pursue their preferred trading strategies and styles. To this end, the company enables traders to use their expert advisors (EAs) and indicators. This includes trade copiers, risk management tools, and algo trading.
Traders are free to trade any style or strategy at any time as long as it is legal and in line with market conditions. This means you can use your own EA, algo trading, trade the news, hedge positions, leave trades overnight and even leave trades open over the weekend.
In summary, FundYourFX provides a flexible and open trading environment where traders can pursue their preferred strategies and styles without any restrictions or limitations.
Advantages of FundYourFX for Algo Trading
If you are familiar with Algorithmic Trading, you will significantly benefit from becoming a proprietary trader at FundYourFX because you will have access to trading technology and tools here. This includes a range of expert advisors and custom indicators designed explicitly for algo trading. With this technology, you can automate your trading strategies, making it easier to execute trades and manage your portfolios. FundYourFX uses Eightcap as its broker, so once you have created an Eightcap account and are familiar with the basics of trading on MetaTrader 4, you can start exploring the possibilities of algorithmic trading on this platform.
FundYourFX supports a wide range of algo trading strategies. Whether you're a seasoned trader or just getting started, the platform has everything you need to create and execute custom trading strategies. You can choose from various pre-built algorithms or create your own, tailored to your specific trading needs and goals.
FundYourFX has been designed with the trader in mind, making it one of the most accessible platforms for algo trading. The platform is user-friendly and intuitive, with a simple interface that makes navigating easy and finding the tools and resources you need to get started. This makes it ideal for experienced traders and those just starting with algo trading.
Trading Rules of FundYourFX
The rules in FundYourFX benefit algo traders by providing them with a lot of freedom to trade using their trading strategies, EAs, and indicators. There are no restrictions on the type of instruments they can trade or the strategies they can use as long as their trades are legal and adhere to market conditions. Algo traders can trade the news, hedge positions, leave trades overnight, and leave trades on the weekend, providing them with plenty of opportunities to generate profits.
The profit target is realistic. Traders at levels 1-3 are asked to aim for a 10% profit within 90 days to qualify for payouts. But here's the good part: Once they reach level 4 and get their fourth profit share, the time frame extends to a generous 120 days. At level 5, this extends even further to 180 days. And when they reach level 6, there's no longer any time limit to worry about.
The Maximum Drawdown Limit is determined by the account level. For levels 1-2, the maximum drawdown allowed is 5% of the initial balance. As for levels 3-4, the maximum drawdown is slightly higher at 7% of the initial balance. Finally, for levels 5-6, the maximum drawdown limit increases to 10% of the initial balance.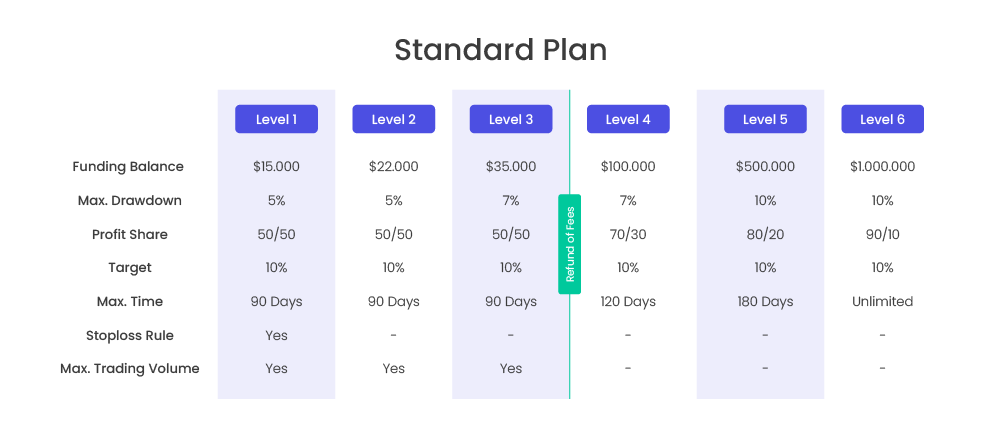 Features and Services Offered by FundYourFX
FundYourFX offers a variety of features and services to accommodate you. The platform utilizes the widely used MetaTrader 4 (MT4) to make trading accessible to everyone. FundYourFX works with the award-winning broker, Eightcap, which provides low spreads, easy deposit methods, and exceptional customer service.
FundYourFX allows you to start with a live account and offers funding up to 2 Million USD with a profit split of up to 90%. The platform also ensures no liability for losses and offers refundable fees, allowing you to invest without restrictive rules.
Eightcap offers a raw account that allows you to trade from 0.0 pips on Forex, Indices, and Crypto CFDs, with commodities starting at 0.1 USD and Share CFDs starting at $0.02 per share per side. The broker also provides a free demo to test the platform before investing.
In addition to low spreads and easy deposit methods, Eightcap offers personal customer service, where you can get in touch with the support team for any questions or concerns. The platform also integrates Capitalise.ai, a code-free tool that allows you to automate your trading using plain English.
Eightcap offers popular trading platforms such as MT4 and MT5, which are widely used by traders across the globe and are known for their ease of use, reliability, and automated trading capabilities. The broker is an award-winning platform and has won multiple awards for customer service, educational support, and trading environment.
The platform offers 100+ crypto derivatives, including popular cryptocurrencies such as Shiba-Inu, Solana, Bitcoin, Cardano, Polkadot, and Dogecoin. You can also enjoy over 1000 markets, including 100+ crypto derivatives, 350+ Australian, US, UK, and European shares, and 40+ major and minor Forex pairs.
Pricing and Cost Structure of FundYourFX
FundYourFX's pricing model sets it apart from other prop firms in the market, such as FTMO. Unlike other firms, FundYourFX charges a one-time fee that covers the setup of the account, license fees, administration costs, and risk management and analytics software. 
This fee is refundable once you hit 10% profit 3 times, a unique feature not offered by other firms. FundYourFx offers three pricing plans for starting trading without using your capital. Each program provides a funded account, meaning you can start trading immediately with a specific starting balance. The plans offer a range of starting balances, up to 90% profit share, no risks involved, personal support, and a refundable fee.
The Starter plan, priced at £197, provides you with a starting balance of $6,000, potentially increasing the balance to $500,000. The Standard plan, priced at £297, provides you with a starting balance of $15,000, with the potential to increase the balance to $1,000,000. The Professional plan, priced at £577, provides you with a starting balance of $30,000, potentially increasing the balance to $2,000,000.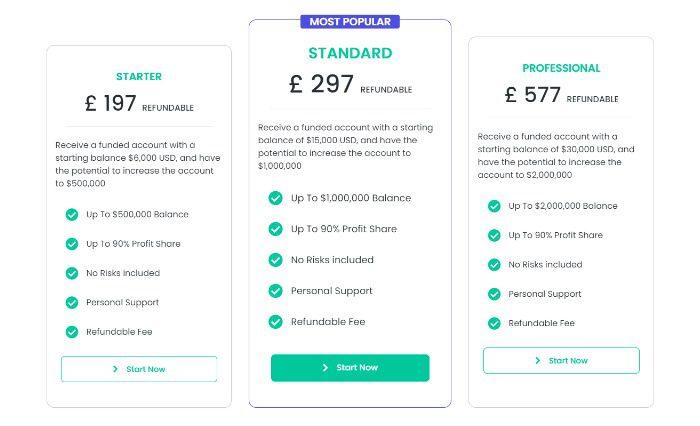 FundYourFX is a prop trading firm that allows you to use your own EAs and indicators, including algo trading, without restrictions or limitations. The company operates on the MetaTrader 4 platform, provided by award-winning broker Eightcap, and offers a user-friendly interface for traders to execute their strategies.
You can trade various instruments and strategies with no limitations, as long as your trades are legal and in line with market conditions. FundYourFX offers funding up to $2 million with a profit split of up to 90%. The firm has a profit target and maximum drawdown limit based on the trader's level and provides features such as low spreads and refundable fees.
Take advantage of this opportunity to trade with no restrictions, get access to top-notch infrastructure, and benefit from a fair profit-sharing model.
We also have a limited-time offer for you – enter YRT5 for a 5% discount code on any FundYourFX funded trader program of your choice. Just Start your journey towards successful trading with FundYourFX today!