Expert Advisor On MetaTrader
What Is An Expert Advisor?
Do you ever wish you could put your forex trading on autopilot? Well, that is exactly what they can do.
Expert Advisors are a set of algorithms capable of automated trading. They can do everything from giving you a signal to place a trade to automatically placing and managing the trade for you. Traders all over the world use this program. Both beginners and experts use it to make the most money from forex trading.
What Are The Functions Of An Expert Advisor?
Open position

Close position.

Adjust according to market conditions.

Adjust the SL (stop loss) and TP (take profit) based on the current trade.

Conduct a paired analysis based on internal markers.

Voice, email, or API notifications are all available.

Examine the account's financial management in terms of balance or margin.

Expertise in integrating with other apps, with the ability to develop endlessly.
What Are The Advantages Of Using An Expert Advisor?
For traders who are unable to handle their own trading accounts on a daily basis for various reasons, trading using

Expert Advisors (EAs)

is becoming increasingly popular.

The currency market is open around the clock, seven days a week. Expert advisors or similar trading programs are known as

forex robots

that can continue trading even if you are not present, allowing you to get results or trade opportunities while working, sleeping, or doing other things.

Using an expert advisor also eliminates the emotional component of trading. Fear or greed will not influence the selection or rejection of trading signals. The expert advisor will execute trades according to the existing instructions, disregarding the emotional aspects of loss and profit.

If forex trading is your primary source of income, an expert advisor can help you relax while also increasing your profits by reducing stress and fatigue.
What Are The Disadvantages Of Using An Expert Advisor?
An expert advisor might not pay attention to the most recent news or information. If the expert advisor can't react to the latest news, they will ignore the most important information for making trading decisions. To avoid trading mistakes, you must closely monitor the news.

Another downside is that it can be more restrictive depending on the program configuration.

Although an expert advisor is better than a person at managing multiple variables at once, an expert advisor can only work according to the program that has been set. While a person will not be too restrictive, since they will be able to respond to a broader range of variables than the expert advisor's variables.
What Is The Difference Between An Expert Advisor And Forex Robot?
Essentially, an expert advisor can be configured to automatically generate trading signals and notify traders when a trading opportunity arises. A forex robot, or another sort of automated trading system, employs algorithms to detect market patterns, produce trading signals, and execute trades on behalf of the user. Expert advisors and trading robots both use a set of parameters to find and execute trading opportunities.
Things To Consider Before Buying An Expert Advisor
Using an EA appears to be quite practical and can help all traders make money without having to sit at a computer all day. 
Make sure it has good trading patterns, such as stop loss, take profit, and trailing. Ensure that the EA is able to handle and manage money well. 

Has data on how many lots are opened on each trade and how much money is at risk in the event of a loss.

Understand the equipment and consumption guide performance. Because each trading system has its own characteristics, including the effect of timezone, minimum funds, timeframe selected, percentage of funds, and other forex robot criteria.

Testing the EA, be it both backtesting or forward testing, we recommend that you consider an EA that has been forward tested for more than one year. Because generally, the results of the forward test are more reliable than the backtest.

The type of

trading strategy

that is high risk will include EAs with

scalping

and

martingale models

. But not all brokers will accept this type.

Remember to conduct your research by Googling or browsing forex forums for user reviews and testimonials about the EA.
What Makes YourRoboTrader Stand Out From the Rest of the Market:
Offer customized programming solution

Create error-free, optimized Expert Advisors for MetaTrader 4 and MetaTrader 5

Help modify and debug buggy, error-prone, and poorly written code

Add functionality to existing EAs and indicators

Backtest your EA to determine the best trading account settings

Create custom trading indicators
Funded Trading has partnered with YourRoboTrader to provide you with the YourRoboTrader-sponsored Funded Trading EA. Now is your chance to take advantage of a free EA developed by the experts at YourRoboTrader. Now you don't have to spend hours or even days creating your own EAs. The Funded Trading EA is completely free and easy to set up.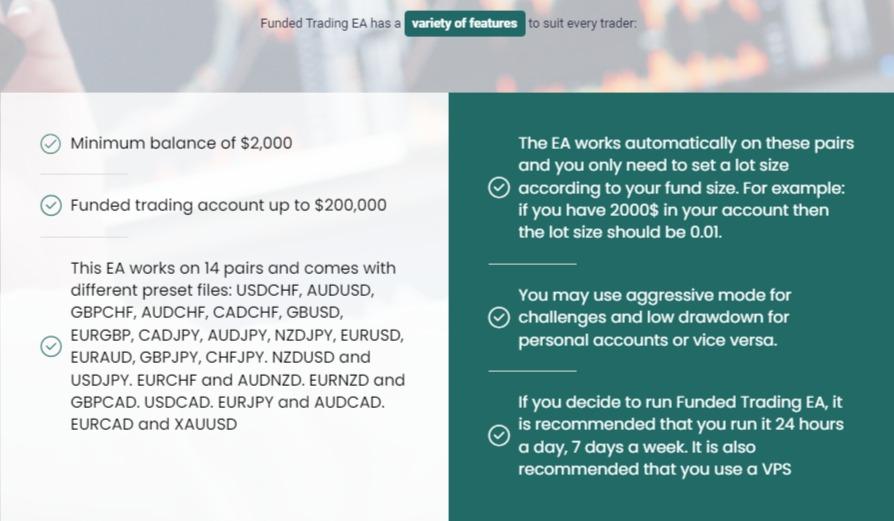 How does the YourRoboTrader x Funded Trading EA works?
When you use this expert advisor, you'll get signals based on charts that have been analyzed with technical tools to find patterns in how prices change over time. These signals are made by an algorithm that uses past data from the forex currency markets to predict accurately how prices will move in the future. This will help traders make smart decisions about when to buy or sell certain assets at the best prices to make the most money during times of high volatility.
Now that you have a basic idea of what an expert advisor and a forex robot are, it is up to you to decide whether they are the right choice for you. Remember that EAs or forex robots are not instant and risk-free ways to get rich.