What Is The Best Fiat To Crypto Exchange?
If you're just starting with Bitcoin and other cryptocurrencies, you may wonder how to convert your local money (like the US dollar) into digital currency. A fiat to crypto exchange is all you need for this.
To buy crypto for the first time, you may use an exchange that accepts fiat money, such as a credit card, debit card, or bank account. This is a must if you wish to invest in Bitcoin or any cryptocurrency. It's important to note that not all cryptocurrency exchanges accept fiat cash for deposits or withdrawals.
Here is a list of some of the top fiat-to-crypto exchanges.
eToroX is an eToro-powered independent crypto exchange. Compared to regular eToro, the platform has more benefits, like more than 80 different crypto trading pairs, credit lines, and API services. 
Users can create a personalized news feed, follow, copy, and communicate with their favorite traders using the social trading capabilities of the website. Their innovative tool allows investors to copy trades from other investors.
The Gibraltar Financial Services Commission is in charge of overseeing the service. The platform is essentially an OTC (over-the-counter) broker for high-volume traders.
CopyTrader technology.

It comes under FCA and CySec regulations.

Each eToro account comes with a $100,000 virtual trading account that enables users to test their trading strategies before investing any real money.

Fully supports credit cards for deposits and withdrawals.

Straightforward sign-up process.
It is one of the safest organizations in the cryptocurrency sector, which is protected by SSL encryption.

Easy to learn for new crypto traders.

Ideal for social trading, an active investment community.

Numerous cryptocurrencies are available.

Allows users to trade a large variety of assets.
Limited to the following parties:

hedge funds

, venture capital funds, brokers, high-net-worth individuals, day traders, and

algo-trading

individuals.

CFDs carry additional risks that may not be suited for beginning traders.
As the biggest cryptocurrency exchange in the world, Binance supports 150 cryptocurrencies and coins, including its own BNB token and Bitcoin, Ethereum, and Litecoin. 
Changpeng Zhao started Binance in 2017, and it quickly became a top cryptocurrency exchange. Binance also has its own cryptocurrency, which is called Binance Coin.
With Binance Coin (BNB), people can save money on trading fees. It is consistently ranked as one of the best low-cost cryptocurrency exchanges because it has one of the most flexible fee structures of any trading platform.
People can buy and sell cryptocurrencies with credit cards, bank accounts, and even other cryptocurrencies.
Consumers can buy crypto assets directly using fiat money or a credit card.

Apart from bank transfers, there are over 100 payment possibilities.

A wide range of features includes a mobile app, a bilingual website, high liquidity, and 24/7 customer care.

Since the company controls access to the user's cryptocurrency wallet, it is not decentralized.

Offers Trust Wallet, a stand-alone cryptocurrency wallet.
175+ different digital assets are available.

The most comprehensive list of supported digital assets accessible on any cryptocurrency or bitcoin exchange.

Advanced data visualizations and trading charts.

It offers two-factor authentication and supports the trading of more than 100 cryptocurrencies.
Insufficiently thorough regulatory approval

Purchases by credit card are now unavailable.
As the most well-known cryptocurrency exchange in the US, Coinbase is where most Americans buy and sell digital currency. It was founded in 2012 and has licenses and permits to do business in more than 40 US states and territories. It is regarded as making crypto more accessible in the US and other nations.
They are considered one of the best crypto exchanges for beginners because their interface is easy to use, they have a lot of educational information on topics like blockchain and volatility, and they have robust security features.
You could also earn up to 5% APY by depositing cryptocurrency and getting rewards for staking.
Payment is available through bank transfers, debit cards, wire transfers, or PayPal.

The advanced Coinbase Pro platform can be used to gain access to 0.6% and 0.4% maker costs.

Integrated educational videos and a news feed.

Has a coverage plan for custodial accounts that covers up to $250,000.
A wide range of educational resources.

With the Coinbase Earn program, which teaches users how to trade specific cryptocurrencies and rewards them with free cryptocurrencies, users are encouraged to use these tools.

The onboarding procedure is quick, and its choice of payment methods makes it one of the best ways to buy crypto.

Ranked second in terms of trading volume, traffic, and liquidity

Users can access it in over 200 countries around the world.

It provides a basic NFT marketplace and a simple mechanism to collect interest on a few coins, although these capabilities are currently limited.
Fees are higher.

Discounts for more significant trading volumes are available, although this may not be suitable for new or beginner traders with small capital.

Access to crypto derivatives and options trading is restricted.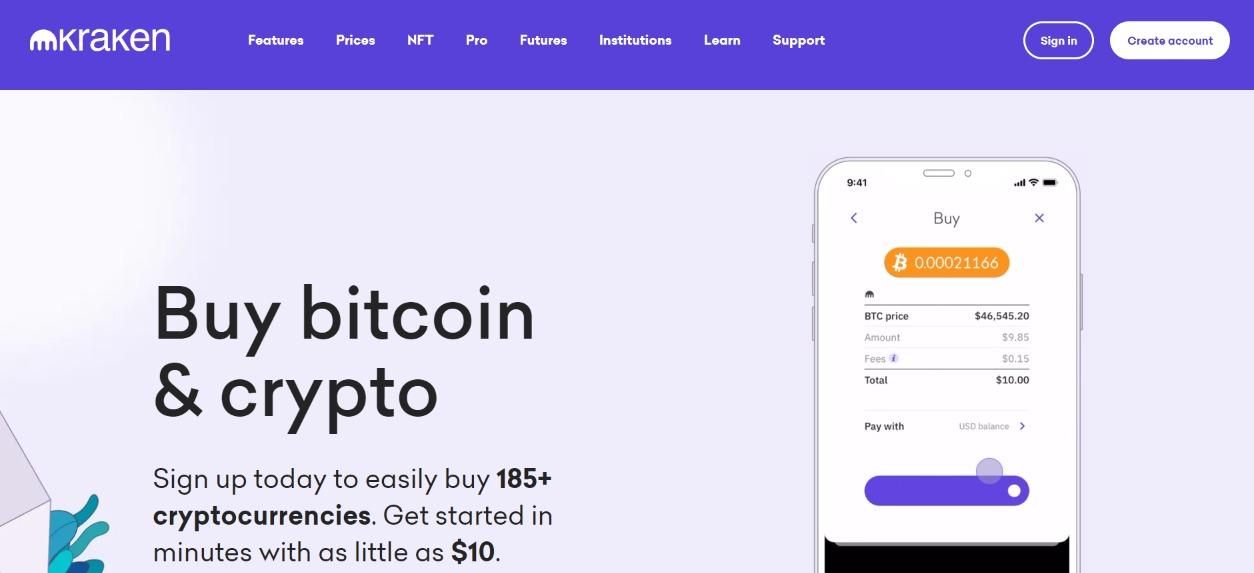 Kraken is one of the top 10 largest cryptocurrency exchanges based on the number of daily market transactions because, unlike Binance and Coinbase, it has never been hacked. 
They have outstanding customer service and safety features. Their advanced security features include an encrypted storage service, email confirmations for withdrawals, and two-factor verification.
The staff watches for suspicious activity 24 hours a day, seven days a week, and they can help with urgent problems through live chat or email.
Supports over 185 cryptocurrencies across various crypto services, including standard trading, leveraged trading, staking, and futures.

Bitcoin, Litecoin, Ethereum, and other cryptocurrencies can be traded for fiat money, including USD, EUR, and CAD.

Although the bank you use may charge you, there are no deposit or withdrawal fees.

Short selling is possible.

The platform charges significantly less in fees than other cryptocurrency exchanges, whose fees can be as high as 5%.
Low fees for Kraken Pro.

The platform provides a wealth of educational tools to help new crypto traders and investors.

During the early days of the crypto market, it quickly maintained its reputation as a reliable and professional trading venue. 

Due to the company's 100% reserve policy, customers may also withdraw money promptly upon request.

Margin trading offers your account with

leverage

.
Less available funding choices and accepts only a few fiat currencies.

Deposits and verification can take a while.
Crypto.com is a marketplace for digital assets that sells a variety of cryptocurrency products and services in an effort to get people all over the world to use cryptocurrency. Crypto.com is a solid alternative to traditional financial services. It has more than 10 million users and makes it easier to get cryptocurrency through its mobile app.
Crypto.com is one of the best choices to participate in the increasingly popular mobile trading space. They give you a full ecosystem for trading and investing in digital assets that you can easily access from your phone.
Non-custodial DeFi wallets, margin trading, prepaid visa cards to spend crypto, and crypto loans are all available.
Low fees when making cash transfers into the account.

Trade cryptocurrencies with margins up to 10 times the size of your initial order.

Take out crypto loans worth up to 50% of your crypto assets without having to sell them.

Contains a wide variety of goods and features and many supported assets.

Support NFTs.
Ranked first on the Cybersecurity Ranking and Certification Platform.

Supports more than 250 cryptocurrencies.

Multiple levels of defence against cryptocurrency fraud and cyberattacks.

Enables users to use any Visa ATM or retail location to access, manage, and spend cryptocurrency.

Available in over 100 countries worldwide using 20+ fiat currencies.
Lack of customer care.

No crypto-to-crypto trade alternatives.

Credit and debit card purchases are costly.
Fiat currency (or fiat money) is money controlled by the government, such as the US dollar, euro, Singapore dollar, and other national currencies. But as time passed, governments couldn't keep enough precious metals on hand to back every coin and piece of paper money, so so-called "fiat" currencies became more common.
This is why it is called "fiat to crypto" to buy Bitcoin or other cryptocurrencies with fiat currency. After all, Bitcoin has always provided a fiat-to-crypto option because that is how the internet used to function. Two platforms are used for trading and buying.
Benefits Of Crypto Over Fiat
There are a few significant benefits of using cryptocurrencies over fiat:
Any central authority of any nation cannot control cryptocurrency; hence there can be no government interference.

It is a user-focused and decentralized system.

Accessibility and ease-of-use features.

A strong choice for market investment in the financial and technology sectors.