Best No KYC Crypto Exchange in 2023
With governments all around the globe imposing regulations on cryptocurrency, the number of No KYC crypto exchange is dwindling. However, many still prioritize anonymity and want to invest in cryptocurrencies without providing any personally identifiable information. That's why we've put together a list of some of the most reliable, secure, and user-friendly exchanges where KYC is either not required or is only required for transactions over certain limits.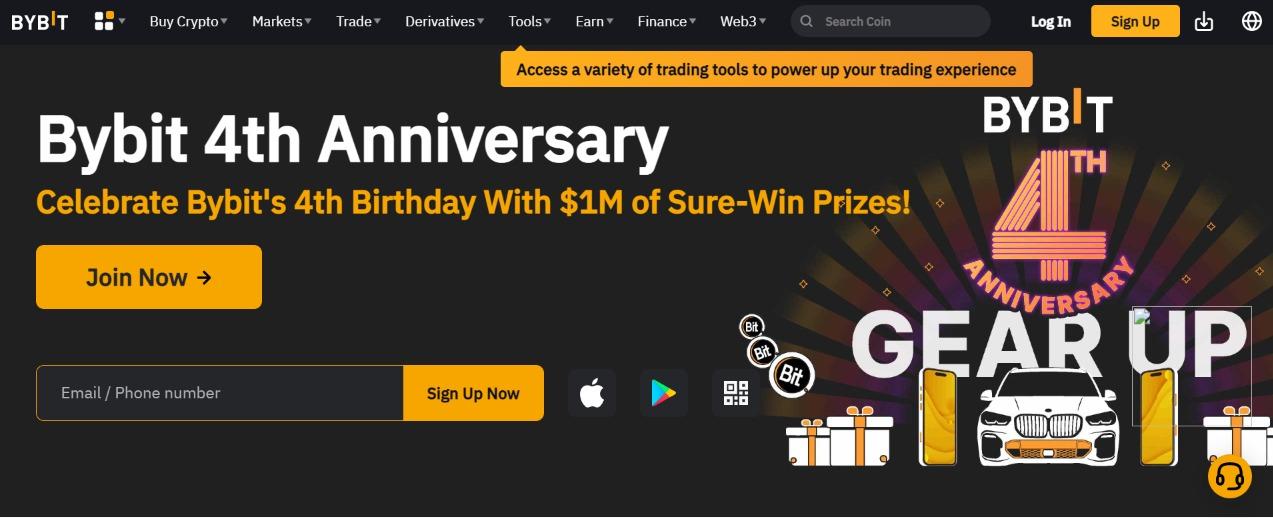 Bybit was founded in 2018. Since its establishment, Bybit has become one of the leading cryptocurrency exchanges in the world, offering leverage of up to 100x and a variety of trading pairs, including Bitcoin, Ethereum, and Litecoin. 
The exchange also offers mobile apps for iOS and Android, allowing users to trade from anywhere. In addition, Bybit offers 24/7 customer service and has received various awards in the cryptocurrency industry.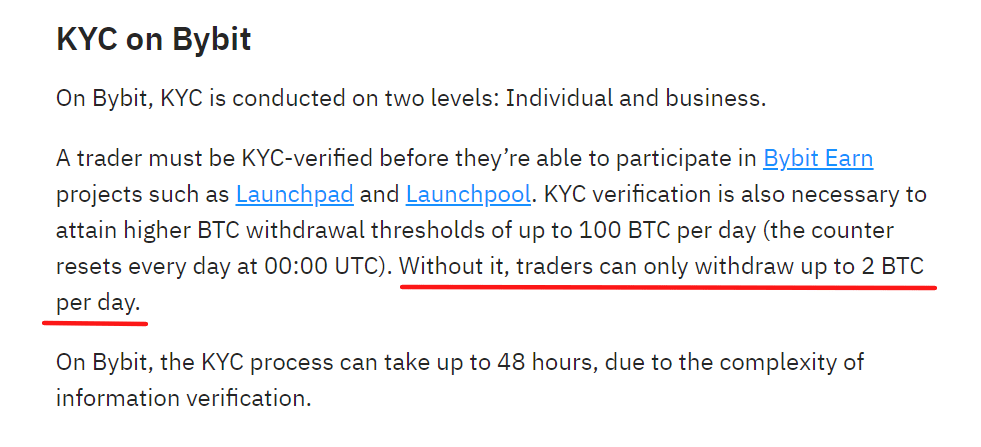 Offers up to 100x leverage for some assets.

Offers derivative trading.

Good UI and UX.

Best customer support service 24/7.
High leverage: Bybit offers high leverage of up to 100x for some assets, which is a very high

leverage

level compared to other exchanges. This allows traders to generate more significant profits with less capital.

Derivative trading: Bybit offers derivative trading, contracts valued based on the underlying asset they are based on. This allows traders to profit from the asset's price movement without owning the asset physically.
Advanced trading platform: Bybit offers an intuitive and easy-to-use platform, allowing traders to monitor their positions and place orders easily. The platform also has various

technical analysis

tools and other valuable features for traders.

24/7 support service: Bybit has a responsive customer service team that is always on standby 24/7, ready to assist users with any questions or issues that may arise during the trading process.
Transaction fees are pretty high.

Slippage can occur.

The high leverage available can make losses grow faster.
KuCoin is a cryptocurrency exchange founded in September 2017 by a group of technology and cryptocurrency experts in Hong Kong.
KuCoin quickly became popular due to its platform being considered easy to use by users, having low trading fees, and having strong security measures. KuCoin has recently expanded its branches to Singapore, Thailand, the Philippines, and other countries.
It has a vast number of cryptocurrencies.

Low fees of only 0.1%.

SSL encryption and two-factor authentication are available.

There is a referral program.

Available in many languages.

KuCoin trading bot.
High level of security: Kucoin has a multi-layered security system to keep users' assets safe.

Low trading fees: KuCoin has relatively low fees of only 0.1% compared to other exchanges.

Many advanced trading features: In addition to spot trading, KuCoin also offers margin trading, futures trading, and more.

A large number of cryptocurrencies: KuCoin has a wide variety of cryptocurrencies available for trading, including many lesser-known ones.
KYC process is required for certain features.

Trading volume is lower compared to other exchanges.

Some users have reported slow customer service response times.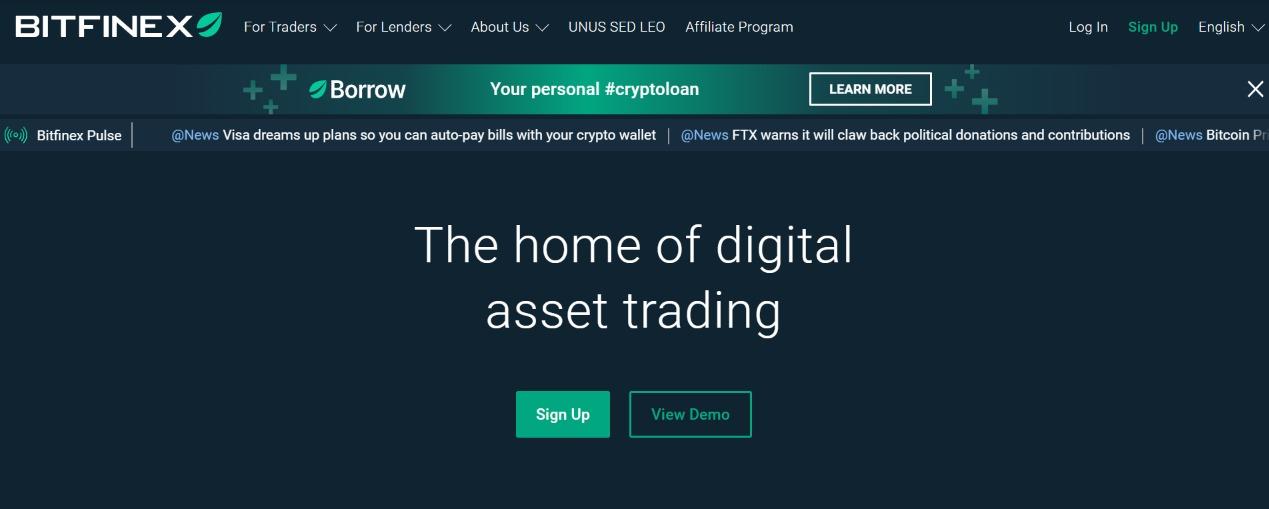 With a decade of experience in the market, Bitfinex has consistently been a leader in technological innovation for digital asset trading. They aim to provide their users with the best possible crypto trading experience.
Bitfinex has a wide range of features, such as trading, derivatives, funding, securities, margin trading, and more. It is known for its deep liquidity order books and excellent customer service. Bitfinex is the go-to destination for digital asset trading.
Easy Sign-Up Process.

DDOS Protection.

Scaled Order tools.
This exchange offers convenient bank wire deposits and withdrawals

Strong commitment to ethics, demonstrated by its efforts to compensate traders affected by the 2016 hack. 

It has high liquidity. 
Not available to US clients.

Does not accept debit/credit card or e-wallet deposits.

Customer Services only can be contacted by email.
This exchange is a centralized platform for swapping altcoins that do not require users to undergo KYC verification to use its services. It allows for anonymous, instant transfers between wallets across various cryptocurrencies. Since its launch in 2013, it has supported over 150 different cryptocurrencies.
Instant exchange mechanism.

Affiliate programs.

24/7 customer support.
Changelly's UI is clean and easy to use, making it suitable for experienced and novice traders. 

Wide range of supported cryptocurrencies (over 150) and various payment methods, including debit and credit cards and cryptocurrencies. Changelly offers a convenient platform for exchanging digital assets.
The floating exchange rate used by Changelly can make it difficult to accurately predict the final cost of a transaction.

High transaction trading fees.
No KYC crypto exchange refers to financial products or services that do not require the client to undergo KYC verification. This means the client does not have to provide personal information or documents to the company offering the product or service.
Benefits Of KYC in Crypto
Better security: KYC helps ensure the security of cryptocurrency exchanges and other platforms by verifying users' identities. This can help to prevent fraud and other financial crimes.
Building trust: By verifying users' identities, KYC helps build trust and confidence in the cryptocurrency industry. This is especially important for institutional investors and other prominent players who may be hesitant to participate in the industry without proper safeguards.
Greater transparency: KYC helps create a more transparent cryptocurrency industry by letting companies know who their customers are and their financial activities.